Updated December 2022
Christmas Shipping Guide 2022
We want to keep you in the loop as much as we can during this busy time of year! If you're thinking of us as a Christmas gift this year (we're honoured that you're thinking of us btw!), there are the cut off dates to ensure you receive your gift in time:
•December 5th shipment for remote areas/West coast
•December 12th shipment for Ontario/Quebec
•December 19th shipment for GTA
 As always, these dates are subject to change depending on Canada Post's schedule. We received word from our Canada Post representative to expect delays of 1-2 days during the holiday season. If you aren't able to make the cutoff in time, but want something physical to give on Christmas day, we offer a handy-dandy card you can print off and gift!
General Inquiries
What is The Roasters Pack coffee subscription and what is included?
The Roasters Pack is a bit like a coffee delivery service and a bit like a coffee magazine.
With The Roasters Pack subscription, you'll receive 3 different coffees (3x4oz, 3x8oz or 3x12oz depending on the size you choose), along with details on each of the featured coffees, tasting notes, coffee descriptions, sourcing information, discounts on coffee and more! Depending on what we want to spotlight for that specific month, you could also expect to see brew guides, crossword puzzles, or another interesting facet of specialty coffee we decided to highlight.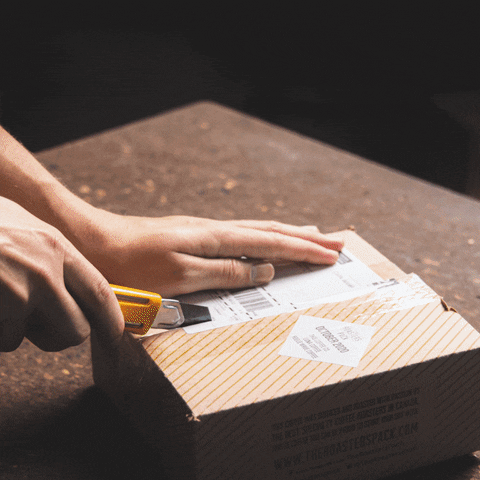 Is this a recurring subscription? If I decide I want to cancel, how do I do so?
We have two main products – one is our subscription and the other is a gift subscription The gift subscription will not renew.
Our subscription does renew at the end of the term. However! We make it easy to cancel if you wish – we'll send you an email after you sign up with a link to manage your account. Also, we send out a reminder email 2 days before a recurring charge takes place so that you won't forget about your subscription!
Not sure what you bought? Check your order confirmation email – does it say "Gift" in the product name? If so, you don't have to worry about it renewing.
Which coffees will I receive?
You will receive 3 delicious coffees from 3 different roasters selected by our Director of Coffee, Dustin Ryan Yu (get to know Dustin here).The coffees are a surprise so your palate will be taken on a coffee adventure with each issue. For examples of the coffee that has been featured previously, click here or here or check out our coffee store!
We put a lot of work into tasting 50+ coffees every month so that you'll get the best beans and are often tasting blind to make sure nothing can influence our decision except for how good the coffee is!
Will these coffees work best on filter or espresso?
We currently offer two filter subscriptions (classic and adventurous) and one espresso subscription. The filter subscriptions include coffees that are crafted specifically to make delicious brewed coffee, whereas the espresso subscription features coffee that was created specifically for espresso, with ratios and recipes included to help you dial in.
How fresh is your coffee?
Freshness. Oh so important! When we ship it out, it will be 1 to 7 days off of the roast date. Our goal is to send you the freshest coffee possible!
How much coffee do I receive?
If you choose our smallest sizing (3 x 4oz) you'll receive three different roasts in four-ounce bags, equalling a total of 12 ounces (or 340 grams). This is usually the sizing of one regular bag of coffee you would get from a coffee roaster. It'll make over 35 "Coffee Cups" (148ml) at a 17:1 (or one really really big cup of coffee with a total brewed volume of 5,780 ml)!
For the espresso pack, we take into consideration the need to dial in, which can sometimes use up quite a bit of coffee. We feature a 1x12oz, 2x12oz and 3x12oz subscription, all coming from different roasters.
How do you choose which coffees to put in The Roasters Pack?
We evaluate a lot of coffees every month for a variety of factors – the body, acidity, finish, complexity, aftertaste and tasting notes. We want you to be able to discover the best coffees available and we sift through the masses to discover the ones that are incredibly exceptional. Got any tips for us or want to have our coffee evaluated for a feature? Send us a note!
Are your materials recyclable?
Virtually all of the materials we use for The Roasters Pack are recyclable, including the bags, info sheets and packaging. The only things that aren't are the tape we use for our boxes and the valves on our coffee bags (which you can cut out before recycling!)
Do you use ethically sourced coffee?
Being an ethical company is such a huge priority for us, and we want to make sure coffee is a sustainable industry for years to come. Right now, a lot of the "status quo" purchasing methods don't take into account the cost of production for the farmer, and it makes coffee a non-viable opportunity for producers.
Through the roasters we work with as well as our own coffee company (This Coffee Co.) we make sure that coffee is being ethically sourced and the farmer is getting his or her share of the business.
Some examples of this can be found here (we featured 3 different producers from Mataquescuintla in our November 2021 issue, and have bought from them for the past 3 years), or (which shows the breakdown of some of our coffees vs. Fair Trade). You can read about why transparency is important to us here.
As with anything, we're always looking to improve and are open to feedback on this issue, so feel free to drop us a line.
Where do you ship to and is it free shipping?
Currently, we ship to Canada & USA. The shipping and tax are included, so the price you see is what you get!
Looking to up your brew game? We offer free shipping on all gear + coffee orders that are over $45.00 to Canada & USA!
How do you ship your coffee and how long will it take to get to me?
Within Canada, we ship with Canada Post Expedited Service. Our facility is located in Toronto, Ontario, and we've noticed it takes about 1-2 days for subscribers to receive their pack if they live in large Ontario & Quebec cities, 3 days for major cities in the prairies, 4-5 days for Alberta, B.C or Maritimes. Rural areas can take longer than written here, but most places receive their pack within 7 business days. Curious about your location? Feel free to reach out!
Within the USA, we ship with Canada Post Tracked Packet USA which takes 3-8 business days. Although we've never had issues in the past, we've been warned there could be delays with customs.
International shipping is not something we do due to the additional shipping costs/times. Interested in receiving the pack and don't mind paying a premium to get the coffee? Send us a note and we'll see what we can do!
New Weekly Shipment Schedule!
View the new shipment schedule for 2023 in all of its glory, right here.
Why We Ship  Weekly
We're all about customization at The Roasters Pack, and we want to give you the ability to customize when you get your subscription.  With a weekly shipment schedule, you are able to precisely time your shipment. If someone's birthday is coming up and you want to send them The Roasters Pack as a gift, you can send it to them during their birthday week! (We all know someone who celebrates a whole birthday week.)
If you want a subscription, but only find yourself drinking a cup of coffee every other day, you can request your subscription to be sent every 5-6 weeks instead of every month. 
How to request this:
1-Issue Subscriptions
Log in to your Roasters Pack account and press "Set next date or edit frequency." From here, select what date you would like to be your charge/ shipping date. If you have any issues don't hesitate to email us. 
Any Other Subscription
You can email us at info@theroasterspack.com or by filling out a form here and we'll be more than happy to help! We're currently working on expanding our self-serve options so be sure to check back soon!
Can I skip a shipment?
 Yes! There are two options for how to do this:
Option 1: Log in to your Roasters Pack account and press the button that says "skip." This will give you the option to skip for either 2 or 4 weeks.  
•If you press the 2 weeks button once it will skip your shipment for 2  weeks. If you press it twice it will skip for 4 weeks and if you press it 3 times, it will skip for 6 weeks.
•If you press the 4 weeks button once it will skip your shipment for 4 weeks. If you press it twice it will skip it for 8 weeks and if you press it 3 times, it will skip for 12 weeks.
Option 2: As always, we are happy to take care of things on our end.  If you would prefer us to make the skip for you, just reach out to us here or click the link in the email you receive a few days before your subscription renews and we'll be glad to help. 
How do I get my coffee sooner if I skipped a shipment?
If you skipped a shipment and are now ready to receive coffee again, you can log in to your Roasters Pack account and press "Get a new batch in the roaster ASAP for me."  This will let us know to add your order to our next shipment. 
Every 4 weeks is too often! How can I change this?
We're more than happy to bump you back a week or more! Just email us at info@theroasterspack.com or fill out a form here to get your shipments on a more accommodating schedule.
How will I know when my coffee is shipping?
You will receive an order confirmation email when we charge you for your coffee, which will contain the shipping date along with the week cycle you're on (ex. Week 1, Week 2, Week 3, Week 4). Once you know which week cycle you're on, you can go to our Weekly Shipment Schedule to see when your order will ship out.
How do I update my current subscription such as changing the sizing or grind setting?
The best way to do this is to contact us - we'll take care of it!
How do I change my address?
Same as above, just reach out to us and we'll be more than happy to help! We're currently working on an option that will allow you to do this yourself, so check back soon!
Any other questions? We'd love to hear from you!
General inquiries or comments can be made using our contact form (here).
Return Policy
You can find our return policy on our return policy page.
Privacy Policy
You can find our privacy policy on our privacy policy page. 
Terms of Service
You can find our terms of service on our terms of service page.